A History of Commitment, Courage and and Compassion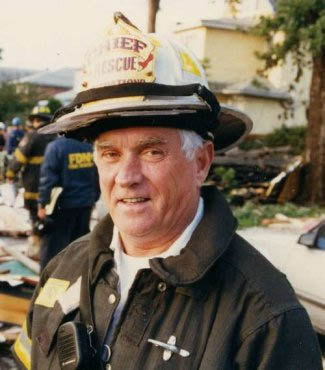 After serving with the U.S. Marine Corps in the Middle East, Chief Downey was appointed to the FDNY on April 7, 1962. In August of 2001, he was placed in charge of all SOC (Special Operations Command) operations - Rescue, Squad, Haz Mat and Marine - and promoted to Deputy Chief.
Chief Downey's phenomenal 39-year career with the FDNY was built upon success after success and rescue after rescue. One of the most - if not the most decorated men in the Department, Chief Downey received five individual medals for valor and 16 unit citations. Additionally, he was awarded the Administration Medal in 1995 for his efforts on the Bunker Gear Program and interim quartermaster system.




Chief Raymond Downey's Fire Department accomplishments are legendary and monumental.
Below is a summary of his many achievements:
> Deputy Chief of Special Operations Command, FDNY
> Panel member of the presidential committee on terrorism known as the "Gilmore Commission," which has been assessing domestic response capabilities for terrorism involving weapons of mass destruction
> Task force leader for the New York City Urban Search and Rescue Team, which responds to disasters both around the country and within New York State
> Task force leader for National Disasters, whose team responded to the Oklahoma City Bombing, Hurricane Marilyn and the bombing at the Atlanta Olympics
> His team was recently selected by F.E.M.A. to be trained for weapons of mass destruction and will be on standby for the 2002 Winter Olympics in Salt Lake City
> Author of the book The Rescue Company and a series of videos on collapse operations
> Recipient of the "Crystal Apple Award" issued by Mayor Giuliani on July 23, 2001
> Chief of Rescue Operations, FDNY during the World Trade Center bombing in 1993
> Team leader in response to Hurricanes Hugo, Andres, Fran, Marilyn and Opal
> National Wrestling Hall of Fame (Medal of Courage, awarded in June, 2002)